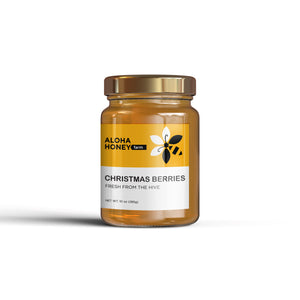 HARVESTED IN HAWAII, ALL NATURAL
100% raw, pure, never been heated, filtered, nothing is added and no adulteration is done to the honey. Healthier than the heavily processed honey found in most grocery stores. It's full of vitamins, minerals, and antioxidants!
Wintertime brings a special glow to Hawaii when bright red berries adorn the Christmas Berry bush. Christmas Berry abundantly produces truly wonderful and versatile honey. We carry precious Christmas Berry Honey because of its overall versatility with a characteristic butterscotch flavor. Moreover, this particular type of honey includes subtle notes of dried fig and plum and warm spice. Hawaiian Christmas Berry honey is a special treat for holidays and can become a perfect addition to celebrate a mini tropical holiday year-round.