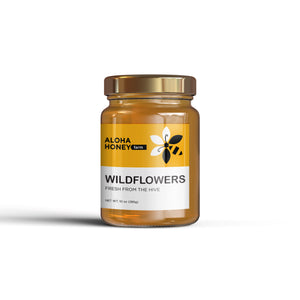 HARVESTED IN HAWAII, ALL NATURAL

100% raw, pure, never been heated, filtered, nothing is added and no adulteration is done to the honey. Healthier than the heavily processed honey found in most grocery stores. It's full of vitamins, minerals, and antioxidants!
Our wildflower honey derived from a variety of wildflowers and plants which are blooming during the summer months. It is simply called wildflower because it is not single-sourced and exactly what it sounds like. Weather conditions will always affect and determine what plants will influence all of the characteristics of our honey. The taste and color every year is different depending on what blooms are produced by what plants. Also the color can range anywhere from very dark honey to light honey. If the honey is not single-sourced it is simply called wildflower honey. Since we have lots of locations for hives in the same area the types of honey can vary in the same year. Folks like wildflower honey for its delightful taste, hearty, and more robust flavor. It makes the perfect complement to a range of savory dishes, from classic honey baked ham and sweetbreads to honey glazed chicken. It's also great for baking bread and enhancing rich desserts and great for all-around the year use.