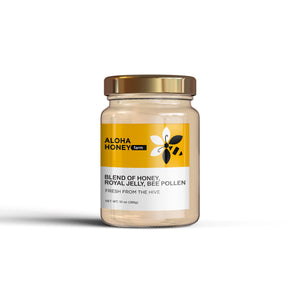 INGREDIENTS: 100% Raw Honey, Royal Jelly, Propolis, Bee Pollen

HARVESTED IN HAWAII, ALL NATURAL
100% raw, pure, never been heated, filtered, nothing is added and no adulteration is done to the honey. Healthier than the heavily processed honey found in most grocery stores. It's full of vitamins, minerals, and antioxidants!
How to use:
Our blend needs to be kept refrigerated because of 100% raw royal jelly in it. Raw honey + fresh royal jelly one of the healthiest combinations you can find!
We recommend taking 1 teaspoon per day as a dietary supplement. At the recommended dose our royal jelly honey formula should last 30 days. Ideally, take Blend of Honey and Royal Jelly in the morning and do not put this in hot meal/drinks to maximize the benefits.